Want more
Worlds Collide
? The
Deluxe
and
Super Deluxe
editions are up for grads for
Pre-orders
Right Now on Amazon.com. Back at April, Archie Comics have plans to make the entire
Worlds Collide
Story arc in under one single hardcover book, and it has revealed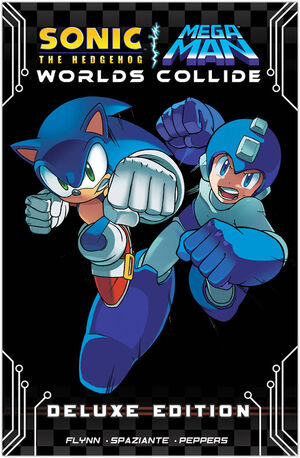 been reveal since around April of this month according to
Publishers Weekly
. However, here's some more. Not only will there be a
Deluxe Edition
but also a limited edition
Super Deluxe Edition
as well. We don't know whats included but we do know that it's up for grads on pre-orders (as mentioned earlier) and it will be on sale on
November 25, 2014
. Deluxe will cost you at US$49.99* and the Super Deluxe will be at US$79.99*. You can pre-order them by clicking on the links below and keep it locked at BBCW for the latest.
* NOTE: Original Price. Please note that it has since cost a little cheaper at US$37.99 for Deluxe and US$60.97 on Amazon as of 6.5.2014 but expect them to change.
Ad blocker interference detected!
Wikia is a free-to-use site that makes money from advertising. We have a modified experience for viewers using ad blockers

Wikia is not accessible if you've made further modifications. Remove the custom ad blocker rule(s) and the page will load as expected.