The Crossover is getting closer into stores but we're just getting started with this. To end this summer, Archie Comics has just revealed the Covers and some infomation for
Mega Man Issue #40
. So... As part of it, this will offically end the anticipated cross-over of Mega Man and Mega Man X, but that's not just it. We also gotten another Trade Release coming soon. So, here's the covers. Also, here's a socilation for this issue.
The PULSE-POUNDING CONCLUSION to the latest crossover MEGA-event from Archie comics is here! "DAWN OF X" Part Four: The time-traveling adventure reaches its explosive finale as the mystery of Mega Man's confrontation with the rogue Wily robot is revealed! X and the Maverick Hunters have their final showdown with the mechanical monsters! And Xander Payne's fate comes to a startling conclusion! Don't miss this crossover between iconic eras, with a SHOCKER-ENDING that will blow your mind! Featuring all-new cover art from Mega-artist supreme PATRICK "SPAZ" SPAZIANTE and a time-spanning variant cover by Colin Lawler!
Scripts will be done by Ian Flynn Art is done by Jamal Peppers, Gary Martin, John Workman, and Matt Herms, and the regular cover is done by Patrick "Spaz" Spaziante along with Colin Lawler for the "Lost in Time" Variant. It should be shipped by 8.6.2014 with the issue to be released by 8.20.14
Also, We also gotten another Trade Paperback of Volume 8 of Mega Man, titled, Redemption. This will consist of issues #33-36 before the Dawn of X Cross-over.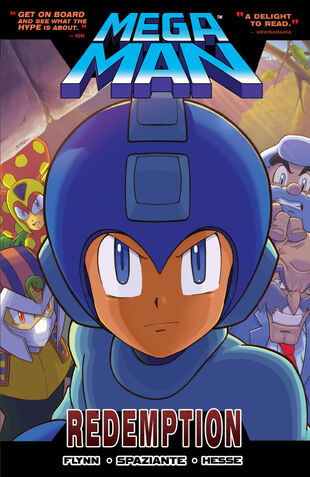 Here's some info about this future Trade.
The FUTURE IS NOW in the next chapter in the Mega Man graphic novel saga! Mega Man took up his Mega Buster to stop the evil ambitions of Dr. Wily. That means Dr. Wily is his greatest enemy–-right? Not according to the Doctor! He says he was being used by the terrifying Ra Moon, and to prove it, he saves Mega Man's life! What is the truth behind Dr. Wily? Is he plotting something sinister yet again, or has he really been the victim all along? Mega Man embarks on a mission that will test his courage as much as his skill to find out the truth! Featuring the first-ever look at the world of MEGA MAN X in comic book form, as drawn by Sonic legend PATRICK "SPAZ" SPAZIANTE!
This Trade Paperback should be released by 9.3.2014 and it will cost at US$11.99/CAD$13.99 (Plus Sales Tax when accepable)
As always, keep it locked here at @BBCWNews on Twitter and on our blogs for the lastest on future Mega Man Issues and more.