We got more to cover, as we start a new Story Arc for the Fall of 2014. And yes, we do get to know more of the one the upcoming story arcs that is coming by the end of this year and yes, we do have the covers and more info on Mega Man 44.
The blue-BOMBastic conclusion to LEGENDS OF THE BLUE BOMBER is here! The battle is about to reach its shocking conclusion—or will it? Based on the legendary game Mega Man 3 comes "Legends of the Blue Bomber" part 4! Hard Man is all set to destroy Mega Man—so why is he offering his enemy a free recharge? Spark Man won't hold back as he sets out to avenge his fallen brothers! Meanwhile, Dr. Wily puts the finishing touches on his greatest creation to date, meaning this isn't the end of Mega Man's battles!
Featuring new cover art from Mega Man art legend Patrick "SPAZ" Spaziante and variant cover by Ben Bates!
Scrips done by Ian Flynn, Art will be done by POWREE, Gary Martin, John Workman and Matt Herms, the cover is done by Patrick "SPAZ" Spaziante and like Issue 43, the Variant will be done by Capcom as well. Comic Stores should get it shipped by 12.3.2014 and it should be on sale on 12.17.2014
And there's one more thing to point out. Mega Man Vol. 8 Redemption has been pushed up to Christmas Eve (12.24.2014)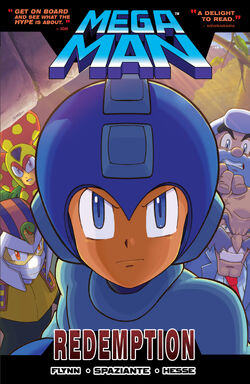 Again for those who didn't know about it, it will offer Issues #33-36 and it will offer the full first look of Mega Man X from Spaz. That's all for now, we'll have the Issue #41 Previews soon and as always keep it locked to Blue Bomber Comics wiki for the latest.