Off to the Jacob Javits Center this weekend? We got a lot to talk about and more on everything with the Archie Comics! In this blog, we'll tell you what Archie Comics will be doing at the NYCC along with signautes, panels, and more that you'll be seening along with the Staff who done the Mega Man Comics. As Mentioned earlier, a lot of anticipation is coming over the new crossover with Mega Man and Sonic, Worlds Unite, which we've just break the news to you and a whole lot more. Now that's over with, here's what Archie Comics has in store for this year's New York Comic Con regarding to Mega Man.
NOTE: Times in EDT (UTC-4)
Panels
Archie Action Hour (10.9.2014)
A Comic Con with Archie isn't complete without an Archie Action Hour! And this time, with something new to talk about with the upcoming crossing over that will come next year.. And this is huge to talk about. Paul Kaminski (Archie Comics Executive Editor) along with Mike Pellerito (Archie Comics President), Vincent Lovallo (Assistant Editor), Ryan Jampole, Ben Hunzeker, Jennifer Hernandez, Jamal Peppers, and Jon Gray will also give you behind-the-scenes action on the newer issues and more. The Entire Archie Action gang will be will ready for this anticipating panel which will be ready for a go at 1 PM EDT and it'll finish at 1:45 PM EDT at Room #1A18. GET YOUR HYPE READY!
Also, here to add this to your schedule (Account is required for this to be added to your schedule)
Signatures
The Archie Action Signatures will be done at Booth #1936. The Signature will be done this weekend from 10.10-12.2014 from 1 PM to 2 PM. Jamal Peppers, Ryan Jampole, Jennifer Hernandez, Ben Hunzeker, and John Workman will be there at those days while James Fry will do signatures on this Saturday Only.
Convention Variant Sales
This cover shown below will be on sale...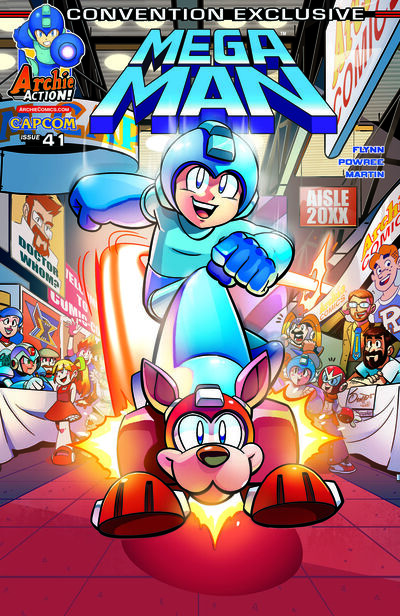 Sonic the Hedgehog #265, Archie #660, and Sabrina #1 Convention Variants will also be on sale. The cost are $10 a piece but they are IN LIMITED QUANTITIES, so act quickly before they're gone. Pick them up at the Archie Comics Booth at Booth #1936
That's all they have in story but keep it locked to Blue Bomer Comics Wiki for the latest on the upcoming crossover and more.
If you want to know more of Archie's plans, click here.