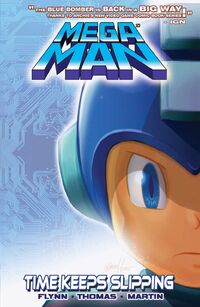 Mega Man Volume 2: Time Keeps Slipping
is the second volume of the
Mega Man
comic series trade-paperbacks series published by
Archie Comics
. The volume consists of
Time Keeps Slipping
story arc from
Mega Man
Issues #05-08. It was released on February 29, 2012.
Official Solicitation
Edit
The evil Dr. Wily has vanished from jail, Mega Man's sister Roll has been kidnapped, and Dr. Light is in federal custody! What's Mega Man to do? Can he turn the tide and save the day with the aid of the Robot Masters, or will they turn against Mega Man? This comic book-size, full-color graphic novel collects Mega Man comic book issues 5-8.
Reprinted Stories
Edit
Chapter 1
Edit
Reasonable Doubt (MM#005)
Chapter 2
Edit
Unresolved Issues (MM#006)
Chapter 3
Edit
Reinforcements (MM#007)
Chapter 4
Edit
Duplicity (MM#008)
Variant cover gallery
Short Circuits 5-8
Concept designs for Roslyn Krantz & Gil Stern by Ben Bates
Designs for Time Man & Oil Man by Patrick Spaziante
Cover Sketches
Script and pencil selections from Issue #005
Character profiles: Time Man, Oil Man, Gilbert D. Stern, Roslyn Krantz, Sniper Joe & CWU-O1P
The cover for Volume 2 is the same cover from Issue #005